Kitchen & Bathroom Services
Natural Stone Updates with Granite, Marble & Tile Solutions
Looking to update your kitchen? Or, perhaps your bathroom could use a good facelift? At Granite, Marble & Tile Solutions, we've worked with clients directly in choosing the right material that matches their design aesthetic. Choosing the right material for your kitchen or bathroom can really add character to your space, and what better way than to choose the stone industry experts!
Kitchen Countertops
Granite, Marble & Tile Solutions specializes in custom fabrication and installation of natural stone and quartz kitchen countertops. We pride ourselves in fabricating and installing countertops with seams and edges that enhance the natural beauty of the stone. We have options to fit most budgets! Whether you are building new, remodeling, or simply updating your countertops.
Let us help you find the right solution for your kitchen. One that provides a durable counter surface and an ageless beauty that never goes out of style.
Bathrooms- Shower and Tub Surrounds
A beautiful, updated bathroom with a natural stone is the ultimate solution in increasing your home's resale value and overall character. Granite, Marble and Tile Solutions' expert team can create unique, natural stone designs for a complete bathroom remodel project or for any individual shower or tub surrounds.
Kitchen and Bathroom Faucets
Granite, Marble and Tile Solutions offers a selection of faucets to complete your kitchen or bathroom project in one stop. We offer a variety of contemporary and traditional faucets from the Cygnet brand. Ask how we can provide plumbing connection services to local area customers!
Vanity Tops
Natural stone vanity tops are a great choice to add value and beauty to your home. They are easy to clean and maintain, furnishing an elegant look in your bathroom for years to come. Granite, Marble & Tile Solutions offers an extensive color selection and can custom design to fit any space.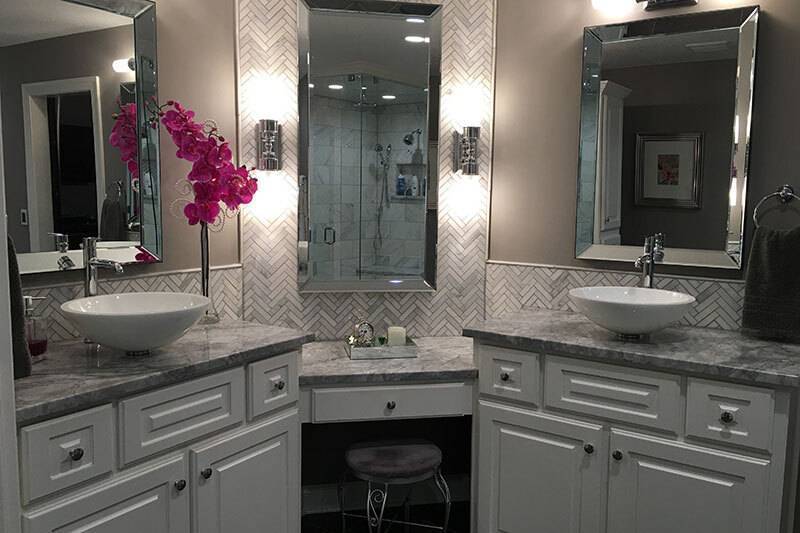 Check Out Kitchen and Bathroom Projects by Granite, Marble & Tile Solutions!
FAQs
Below are some common questions we get when it comes to kitchen and bathroom projects!
Is granite safe to use in a kitchen?
In a word, yes. There has been some misinformation circulated by competing industries attempting to raise concerns about issues such as bacteria and radon. We would be pleased to share the research that shows that these concerns are not only unfounded but granite actually ranks second to polished stainless steel in a study measuring the bacteria resistance capacity of six common countertop materials.
Can I cut on my granite countertop?
Only if you want to ruin your good knives. Granite is harder than your knife blades and will dull them very quickly, if you use the countertop as a cutting surface. Always cut and chop on a wooden or plastic cutting board.
Can I set a hot pot on my granite countertop?
Granite is formed by extreme heat and pressure combined beneath the earth's crust. It can not be affected by heat from a cooktop or frying pan. A lit flame placed under the granite will have no melting effect and will not leave any burned or scarred marks.
How do I deal with sink and stove cutouts?
With our latest technology we have the ability to cut any sink or surface unit cutout. Under mounted sinks (sinks that are mounted under that counter top so as not to show any rim) are fully cut out, then the inside of the hole is polished. The counter top is then flipped over and reinforced with fiberglass rods designed specifically for this application. The sink is bolted into place during the installation ensuring it will not drop out and in very rare instances, can be replaced with a new one.
Is marble suitable for a kitchen countertop?
No, marble is not a good choice for a kitchen countertop. Although it can be sealed, it is not as dense as granite and therefore it is more porous and susceptible to being stained in a highly used area like a kitchen. It is much softer and it will chip and crack under frequent use. However, if these are the characteristics you want, we will be happy to install it for you.